About SHREE SALASAR INDUSTRIES
An ISO 9001:2015 certified company, was established in the year 2011 with the commitment to supply quality products meeting or exceeding customer's expectations and achieving objectives of being a preferred supplier.
Situated at Jaipur India, the company produces excellent HDPE Pipes & Coil, HDPE Fittings, HDPE Sprinkler, Drip & Mini Sprinkler UPVC, PLB Duct Pipes, MDPE Pipes (for Water & Gas Supplies) with a unique skill, continuous technological upgradation, professional management, testing and persistent dedication without compromising on quality leading the entire organization to National and International name and repute. The Company is enjoying technological advantages with a latest equipped on-site laboratory at manufacturing plant. These innovative facilities are in the forefront of product development, which goes forward the most careful, vigilant standards of product testing based on national and international standards. The Company believes to innovate product features to other excellent product to indulge customer requirement and to meet this we have dedicated team of plastic and chemical engineers, operators and skilled labor. Our credo is uncompromising quality & spirit of excellence.

The key professionals of our organizational structure include :

. Procuring agents
. Engineers & technicians
. Quality controllers
. Sales executives
. Skilled and semiskilled workforce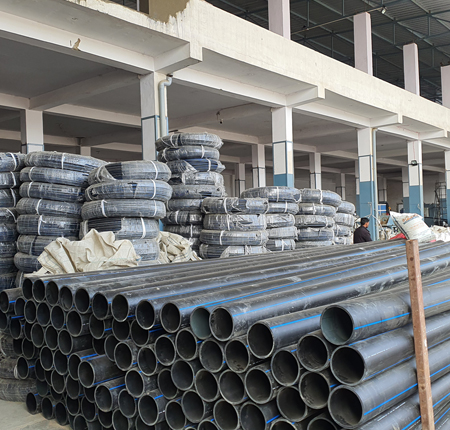 Some of the unique attributes of our organization are:
EXECUTION EXCELLENCE
We believe in excellence of execution in large or complex projects as much as small everyday tasks. Excellence in execution reflects in our disciplined approach to hard work.
CONSUMER FOCUS
We believe in long term relations and works hand in hand with our valuable customers to ensure that they will get the best quality products and value for their money.
SUPERIOR MATERIALS
We understand that our reputation is only as good as the reputation of the materials that go into our products. That's why our products are used in esteemed organisation.
ON TIME PRODUCT DELIVERY
Chances are that you won't find anybody who will get what you need, when you need it. What that means to you is Same Day and Just In Time deliveries.
why choose us
Supported by rich industrial experience and strong domain expertise, we are able to provide our clients with a quality range of all types of HDPE Pipes for Water Supply, HDPE Pipes for Sewerage, HDPE Pipes & Coils, Sprinkler Pipe & Irrigation System, Micro/Drip Irrigation System, Accessories,PLB HDPE Telecom Ducts. etc.
Due to the highly innovative product solution, best quality and timely delivery service our offered range of products are highly demanded in the market.

. Elegant Range of All types of Irrigation Equipments.
. Novel Designs & Patterns.
. Competitive Price Range. Excellent Packaging.
. Timely Delivery of Goods.
. Trusted and well-known brand & No.1 in Technology.
. An ideal for any Irrigation Products & designed to attractively occupy a small space.

Our Team

We have a strong belief that the workforce is a major factor in the success of any organization and so, we have employed a diligent team of expert professionals. This team forms the backbone of our organization. Due to the unrelenting efforts of our professionals, we have carved a niche for ourselves in the domain. Moreover, we organize training sessions to harness their skills and make them abreast with the changing trends & developments of the industry.