AGRICULTURE PIPES
Agricultural Pipes are robust in construction and capable of withstanding high pressure. The system operates by forcing water under-pressure through a small circular hole or nozzle. The water get gradually breaks up into small drops as it travels through the air and falls to the ground like natural rain fall. The sprinkler rotates in a horizontal direction by the force of water and produces a circle wetting pattern.
| | |
| --- | --- |
| Wall Thickness | From 1 MM to 6 MM |
| Color | Pink, Orange, Blue, Green, Yellow and Red |
| Sizes | 1/2", 3/4", 1", 1 1/4", 1 1/2" |
| Standards | IS: 4984-1995 & IS: 14333-1996 |
| Condition | New |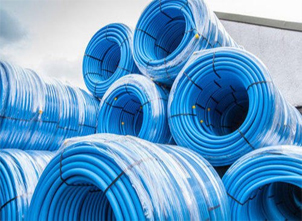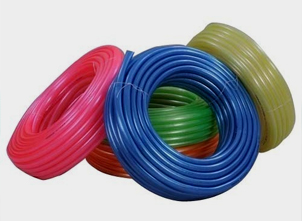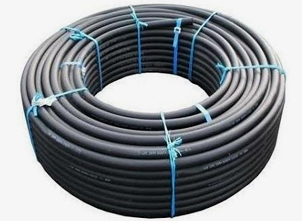 Salient Features

- High gloss crystal clear appearance with a smooth interior to reduce sediment build up.
- High stress crack resistance.
- Strong and sturdy construction makes it a life-long product.
- Corrosion resistant.
- Optimum functionality.
- Minimal frictional losses due to smooth inner lines of the wall.
- Made up of virgin pipe grade raw materials.
- Considered to be flexible and easy to handle.

Properties

- High abrasion resistance.
- High flexibility and impact strength.
- High corrosion resistance, resulting into a longer life.
- Extremely light weight, hence easy to handle, transport & install.
- Excellent water hammer characteristics, helps sustaining pressure surges.
- No exfiltration and infiltration (zero Leak-rate), helps maintaining the quality of fluid being conveyed.
- No trenches needed, resulting into easy and economical installation.
- High UV resistance; virtually maintenance free.
- High resistance to scaling and biological build up.
- High chemical resistance, absolutely inert to any pH value.
- Smooth inner surface prevents growth of bacteria hence makings pumping easier and faster, which leads to significant energy savings.

Applications

Water Supply Systems :

- Transportation and Distribution system.
- House service connection.
- Rural, Municipal Water bodies, SEZ's, Layout's, etc.

Agricultural Systems :

- Column piping for Submersible and Jet Pumps.
- Suction and delivery pipes.
- Sprinkler and Drip Irrigation systems.
- Lift irrigation.
- Insecticide spraying.

Industrial/Mining Systems :

- Effluents, chemicals and treated/untreated water disposal.
- Hydro transport system for handling and conveyance of Iron, Coal and Cement slurry in mines.
- For conveyance of edible oil, fruit pulps, juices, milks and other food materials.
- As a ventilation and air conditioning duct.

Environmental Protection :

- Underground drainage and sewerage application/rehabilitation of existing sewer.
- Effluent and waste treatment plants.
- Dust suppression piping systems in cement industry.
- Sand slurry disposal pipes in dredging.
- De-gassing pipes in water effluent marine outfalls.

Others :

- Transportation of chemicals, solids, gas and oils.
- Underwater pipelines/desalination plants.
- Telecommunication cable ducting (PLB Duct.).